style and error
Beauty fades but style lasts forever.
Image courtesy of eonline.com
While the big debate this year was whether
Seth MacFarlane
took it too far (for the record, I didn't think so - it's comedy people - RELAX!), for the fashion-hungry among us, it's the red carpet that's up for discussion. Did Jen opt for something not form-fitting because she was trying to hide a baby bump? Was Anne Hathaway's
Prada disaster
really a last-minute decision because she almost wore the
same Valentino
gown as Amanda Seyfried? Hosting duties aside, these are the questions that will fill the gossip rags next week. Who wore what, who looked amazing and who, sadly, missed the mark.
Here are the two dresses that stood out for me:
Jennifer Aniston in Valentino
Say what you will about Jen but her classic style almost never misses the mark. I know people complain that she should've put her hair up or mixed it up a bit. But, with that amazing hair and to-die-for perfect blonde color - why should she? This dress might not have wowed everyone on the red carpet but backstage and on TV, it looked incredible. It highlighted her tiny waist (what
baby bump
?) and the classic
Valentino
red shade was a refreshing change of pace from her usual black.
Jennifer Lawrence in Dior Haute Couture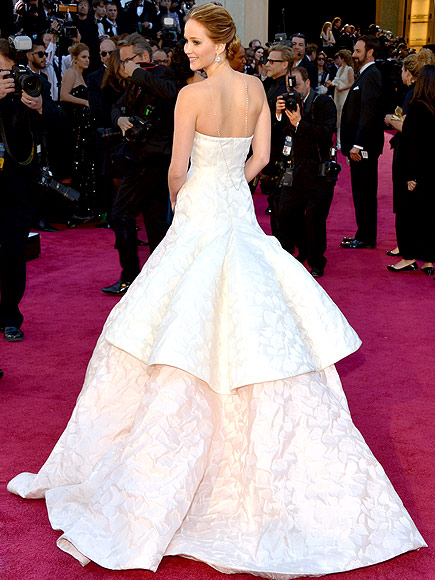 Images courtesy of People.com
The belle of the ball was certainly Jennifer Lawrence. Not only did she kill it on the carpet - loved the cotton candy
Dior Haute Couture
dress and the stunning Chopard diamond necklace worn backwards - and win an Oscar, she gave a candid acceptance speech and even better interviews backstage and on the party circuit. Her honesty is refreshing in a world full of make-believe. Best-dressed (and spoken) of the night.
What will the red carpet have in store for us tonight?